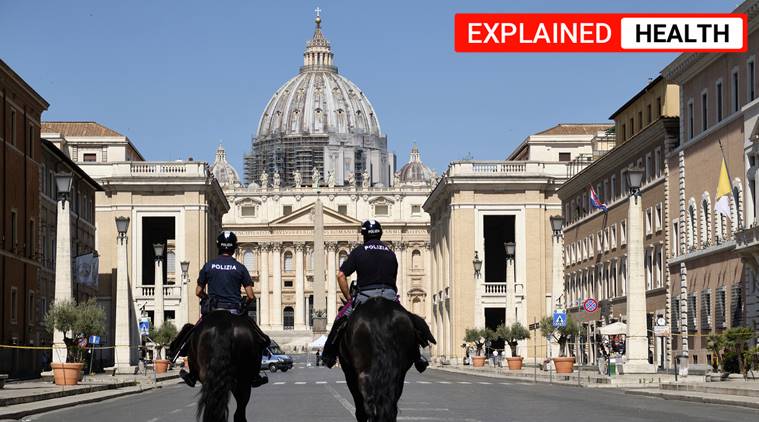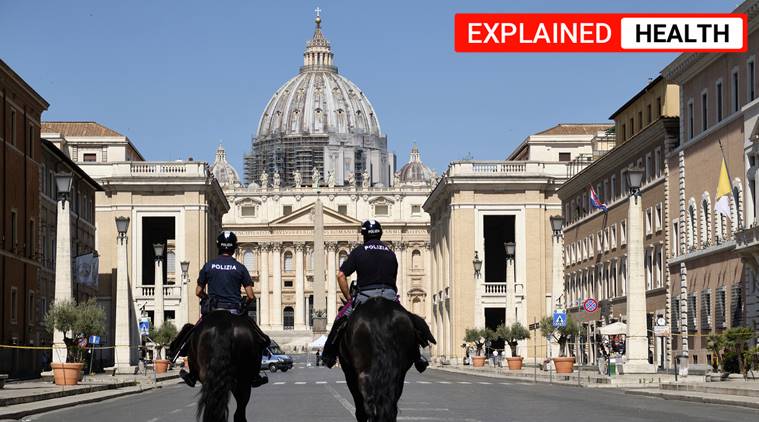 Horse mounted police officers patrol Via della Conciliazione, the street leading to St. Peter's Basilica at the Vatican, on the occasion of the Feast of Rome's Patrons Saints Peter and Paul, in Rome Monday, June 29, 2020. (Mauro Scrobogna/LaPresse via AP)
A large number of Covid-19 cases are asymptomatic, but researchers have differed on what percentage these constitute of all cases.
Now, a team has studied almost the entire population of a small, quarantined town — Vò in Italy, population 3,200 — and found that 40% of its cases were asymptomatic. The study was published in Nature on Tuesday.
The town of Vò experienced Italy's first Covid-19 death on February 21. It was put into immediate quarantine for 14 days.
During this time, researchers tested most of the population for Covid-19, both at the start of the lockdown (86% tested) and after two weeks (72% tested).
The testing revealed that at the start of the lockdown, 2.6% of the population (73 people) were positive for Covid-19. After a couple of weeks, only 1.2% (29 people) were positive. At both times, around 40% of the positive cases showed no symptoms (asymptomatic).
The results also show it took on average 9.3 days (range of 8-14 days) for the virus to be cleared from someone's body.
Source: Imperial College London
📣 The Indian Express is now on Telegram. Click here to join our channel (@indianexpress) and stay updated with the latest headlines
For all the latest Explained News, download Indian Express App.
© The Indian Express (P) Ltd